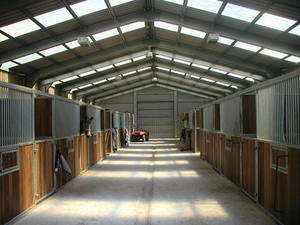 Whether you are looking to construct
a single stable or an American style stable barn for 40 horses
an all weather manege, grass gallops or a cross country course
a new house for you or your staff for your equestrian business
Landyke has a wealth of experience in the design of new equestrian facilities and conversion of older buildings to equestrian use.
We can also prepare the business appraisal to prove to your local planning authority that your equestrain business is capable of meeting the criteria for a dwelling house - in terms of labour need and viability - both essential matters under the Government's Planning Policy Guidance.
Our landscape design expertise also helps us to identify the best options for site layout and access arrangements that will make for the most efficient practical day-to-day working of the yard.
Landyke are one of very few firms who can offer specialist advice for equestrian businesses - not just in terms of planning permissions - because we understand horses and horse business as well as land management. This gives us a lead on many other rural planning and business advisers and we have been involved in some very interesting developments:
Case Study 1: Aylesford Cross Country Course and Livery Yard
Case Study 2: New House for Marefield Farm Stud, Leicestershire
Case Study 3: Equine Worker Accommodation for The Spires Livery Yard, Warwickshire
Case Study 4: Indoor Riding School at Brooskby-Melton College